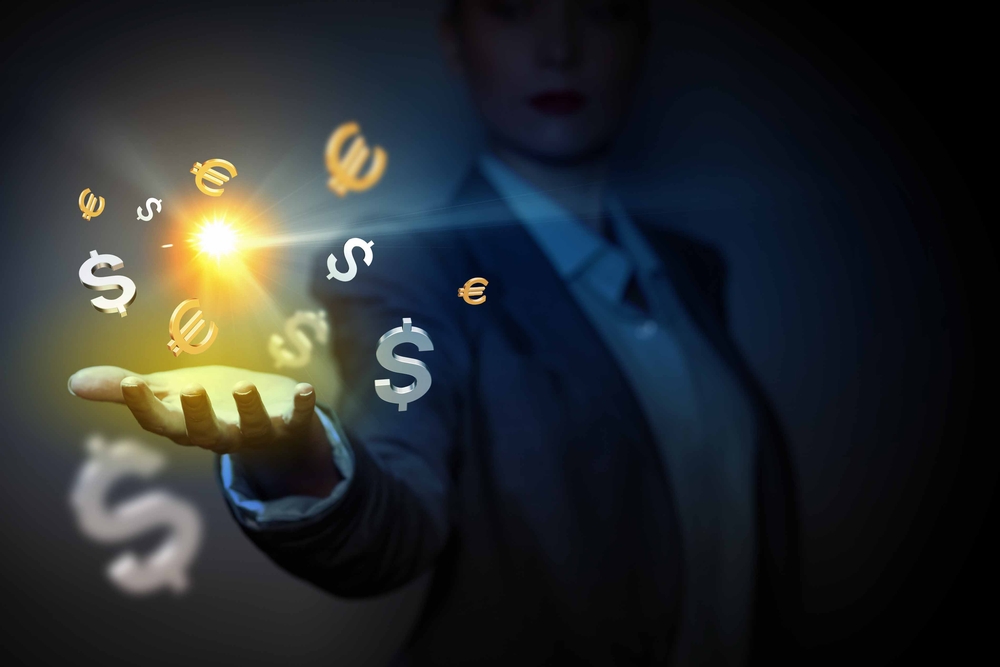 PPC for Lawyers: 7 Things You Need to Know About SEM to Maximize Return For Your Law Firm
When it comes to Google Ads for lawyers, the space is extremely crowded. For example, a search for "boston personal injury lawyers" returns the following: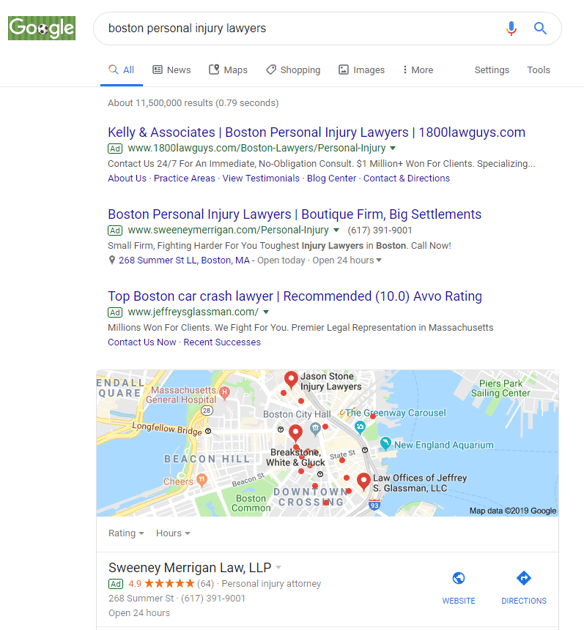 You may find that the majority of the first page of search results are paid results. If you're only relying on SEO tactics and aren't running paid search ads on Google as part of your law firm marketing plan, you probably don't have a great chance of showing up on the top half of search results for competitive keywords. This doesn't mean you shouldn't use SEO tactics, but you should definitely be aware of the fact that SEO is only a small part of a productive law firm marketing plan.
Even if you are running search ads, you can see that competition is tough and you might not be getting the return you want from your campaigns.
Here are 7 things you need to know about running search engine marketing campaigns and how they can help you maximize ROI on your campaigns.
1. Monitor Your Campaigns Daily
Because competition is so tough, top competitors will be analyzing their campaigns daily and making adjustments to increase their ad positions and quality scores. If you don't stay ahead of these changes and iterate with your competition, you won't be able to keep up.
2.
Use Appropriate Keyword Targeting
Just like for organic SEO, you need to choose your keywords in your paid search campaigns wisely. Separate keywords by intent, and make sure your ad copy and offer match the intent of the user. If you have a limited budget, you probably don't want to bid on low-intent keywords like "what is a personal injury lawyer". Even if your budget is large enough to be bidding on those keywords, you definitely don't want to send those users directly to a page asking them to request a consultation; these users are doing research, not looking to talk to sales right away.
Use Google's Keyword Planner to plan out your keywords, determine keyword volume, and estimate how much you can expect to bid on them. This will help you determine how much you should be spending on users at each stage of the buying process.
3.
Campaign Structure Matters
A well organized Google Ads campaign will allow you to create more targeted ads, as well as analyze keyword performance and determine which keywords are drivers of quality leads, and which are a waste of ad spend.
The hierarchy of campaigns is:
Campaign → Ad Group → Keywords
At the campaign level, you can determine the location of your campaign. If you have several law office locations you want to target independently of each other, make a separate campaign for each.
At the ad group level, you should separate keywords by theme. For example, if your law firm has several practice areas, at the very least, each practice area should be in a different ad group. That way, you'll be able to write targeted ads for each practice area.
You can get even more granular - for Practice Alchemy, we separate ad groups by search term theme.
Law firm marketing services keywords in the Law Firm Marketing ad group will see the following ad:
Law firm marketing company keywords in the Law Firm Marketing Company ad group will see the following ad:
Inserting the exact keyword that a user searched for in the ad will increase click-through rates and quality scores, leading to lower cost-per-click and lower cost-per-conversion!
4.
Mine For Negative Keywords Regularly
Negative keywords are essentially keyword exclusions. Since you're paying per click, you only want to drive qualified traffic to your landing pages.
For example, someone who searches for "how to become a personal injury lawyer in boston" could potentially map to a "personal injury lawyer in boston" keyword in your campaign. You definitely don't want to show your ads to these people. In this case, you can add "how to become" as a negative keyword in your campaign. That way, anyone who searches a term with that phrase in it will not see your ad.
5. Use Keyword Match Types
Google offers several different keyword match types, which affect what types of search terms trigger your ads.
Broad Match:
Broad match is the default match type that all your keywords are assigned. Ads may show on searches that include misspellings, synonyms, related searches, and other variations.
Phrase Match:
User searches that match a targeted phrase, or are close variations of that phrase, with additional words before or after, can trigger a phrase match keyword. If the words from the targeted phrase are reordered in any way in the search query, the query will not trigger the keyword. If a single word is listed as a phrase match keyword it is functionally a broad match keyword. It will map to any query that contains the phrase match keyword (see example in the column to the right).
Exact Match:
Ads may show on searches that match the exact term or are close variations of that exact term. If it doesn't change the meaning, and the addition or removal of function words (prepositions, conjunctions, articles, and other words that don't impact the intent of a search), an exact match keyword could still be triggered.
Generally, exact match will always be the most precise search. However, it will also have the fewest number of searches, and you could be missing out on a high volume of relevant searches if you limit your keywords to only exact match. Optimizing paid search as part of your law firm marketing strategy requires thinking critically about the best mix of keyword match types in order to generate a sizable volume of relevant searches.
6. Determine Appropriate Bidding Strategy and Make Regular Adjustments
When you create a campaign, Google offers a number of different bidding strategies. Which one should you choose?
Your campaign goal will typically determine which bidding strategy is best for you.
| | |
| --- | --- |
| Goal | Bidding Strategies |
| Conversions | Maximize Conversions, Target CPA, Target ROAS, Target Outranking Share |
| Website Traffic | Maximize Clicks, Target Search Page Location, Manual CPC Bidding |
| Brand Awareness | Target Impression Share Bidding, Target Search Page Location, Target Outranking Share, CPM and vCPM for Youtube and Display |
After you decide on a bidding strategy, you might find that it doesn't work for you. For example, let's say you chose the top-of-page search page location strategy, and you show up in the first position for your keywords. However, each click is very expensive, which severely limits the amount of traffic you can drive within your allotted budget. In that case, it would be better to test a different bidding strategy that creates a better balance of volume and keyword position within your budget.
7. A/B Test Everything
Search engine marketing is all about testing, testing, testing. You should constantly be iterating and testing your ad copy, landing page copy, call-to-action, bid adjustments, etc. Make sure you record your tests and learnings. Not only will you be able to track down which changes led to improvements in your campaigns, but you'll also be able to gain insights on what potential clients are looking for based on their search terms and what kind of copy enticed them to click your ad in the first place!
* * *
These 7 tips are just the tip of the iceberg when it comes to running successful search campaigns on Google, and running a search campaign is usually just one component of a successful law firm marketing plan. If you're interested in learning more about how to take your firm's marketing to the next level, contact us to discuss how we can help with your marketing needs.