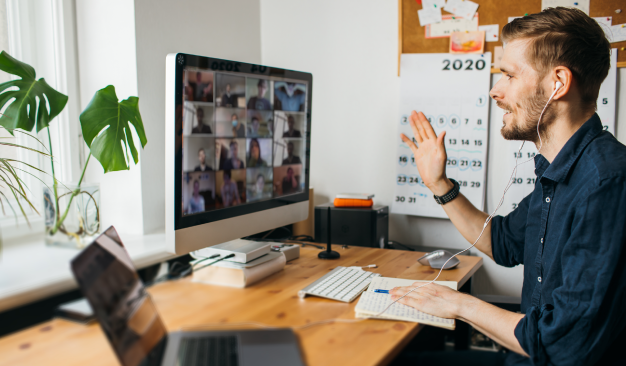 How Outbound Prospecting Has Changed Due to COVID-19
The COVID-19 pandemic has been felt in virtually all areas of society and all industries. It's no surprise, then, that it has radically changed the way salespeople operate and the way purchasing decisions are made.
At FullFunnel, we not only navigated the shift to remote work and remote selling ourselves, but helped hundreds of organizations navigate the shift with us. In this blog, we break down three key lessons we learned about outbound prospecting and how it has changed in the past two years.
Remote Selling Isn't Like In-Person Selling
If there is a silver lining to this pandemic, it's that buyers have become more comfortable with the concept of buying virtually. A McKinsey study from October of 2020 found that 70 percent of B2B decision-makers said they are open to making remote purchases in excess of $50,000, and 27 percent would spend more than $500,000. This is a very positive trend for outbound prospecting, especially given the decline in outside sales.
Unfortunately, the pandemic has also resulted in some less positive shifts for salespeople. Pre-pandemic value propositions and outreach practices aren't resonating as well as they used to, and this is because our way of life is remarkably different. Many professionals are working from home, and maybe even working on completely different schedules than they previously had been. It's never been more important to test calling and emailing at different times in the day to determine when your target prospects are more reachable and receptive to your messaging, and optimize your outreach.
Prospects also tend to be a lot more distracted and overwhelmed in a remote environment, making it even more difficult to sell virtually. You represent only a fraction of the screen, and they likely have emails and Slack messages popping up every other minute. To combat this, it's never been more important to have an air-tight agenda, lead with value, and keep the prospects engaged with questions throughout your discovery and demo calls. Additionally, it's incredibly important to prioritize eye contact and focus on having a conversation as opposed to pitching, just as one would in a real-life interaction.
Rise of Sales Enablement Tools
The shift to a completely virtual workplace has also necessitated changes in the ways sales professionals manage and operate their sales process. We're all familiar with email automation tools like HubSpot and Salesloft, but top organizations are investing in call analytics software like Chorus to help their salespeople improve their outbound prospecting skills.
Sales development reps were once able to walk over to the next office to get someone's feedback or opinion on a call outcome, but that is no longer the reality. Many sales managers are having a tough time managing an SDR team in this remote environment particularly because they can't hop in on as many calling sessions to observe and give feedback in real-time. Tools such as Chorus allow you to record and analyze prospect interactions to promote visibility and drive process and behavior changes.
The Importance of Standing Out
Most everyone can relate to the feeling of dread when they open their email in the morning. If inboxes were full prior to 2019, they are no match for the hundreds of messages that working professionals are dealing with today. In fact, a 2020 McKinsey study found that the average full-time worker receives around 120 emails a day. Prospects are receiving dozens or hundreds of emails a day, and are likely to trash most of them and skim the rest. Automated, lack-luster emails simply aren't going to cut it, and unfortunately, that's what most salespeople are putting out there. The typical sales email is a product/feature dump that goes in one ear and out the other.
If salespeople can learn one thing from this pandemic, it's the importance of standing out and thinking about the sale from the prospects' perspective. Sales is all about providing value, and your outbound prospecting should be a reflection of that. Lead with problem statements and benefits. Your prospect shouldn't know anything about your product in the first couple of minutes of a phone call or sentences of an email. They should know about the problems and pain points you help address.
* * *

If your organization is trialing outbound prospecting as a demand generation channel or struggling to make outbound sales work more generally, schedule a free consultation to learn more about FullFunnel's approach and how we've built successful outbound prospecting campaigns for hundreds of organizations across the globe.