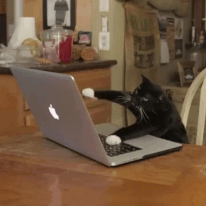 Tests We Love: Using GIFs in Sales and Marketing Emails
For a while at FullFunnel, using GIFs in emails became somewhat of an obsession. We kept seeing them in various consumer newsletters we subscribed to and we were dying for the opportunity to use this dynamic content in our own sales and marketing emails. Given the right audience, we felt it could be a fun, creative way to drive engagement with the email content. GIFs can be used creatively, to emphasize a point you're making in the email and to add a level of humor, or they can be used instructively to display features or changes.
Here's a look at the arguments for and against using GIFs in email, and some of what we learned testing this media.
Supporting arguments:
There are some compelling advantages to using GIFs in emails:
Delight
GIFs are a great way to grab the attention of the reader, so they can be very useful for capturing the attention of audiences which generally have low engagement, or for audiences which tend to be more social. Check out this response one of our clients received after using a well-aligned and relatable GIF in their sales outreach:




Demonstration
Animated GIFs can also be helpful to demonstrate product features or changes. For example, SaaS companies can use a GIF of their product to show users how new product features work. Dell has used this technique in the past and experienced a 42% higher click through rate over emails without animated GIFS.
Opposing arguments:
There are also some disadvantages to using GIFs in emails:
Trendy
While wildly popular now, the Internet is a fleeting place and GIFs may not stand the test of time. As a marketer, it's important to remember that what works well today, may not produce the same results tomorrow, so if you try using GIFs in email, make sure to monitor their performance regularly.


Relevance
It can also be tempting to use GIFs, even when they don't add value to the content or make sense for the audience to which you're emailing. In these instances, you risk seeing lower engagement.


Technical Considerations
Though GIFs are supported by most email clients now, you still risk incompatibility and some clients may only show the first frame of the GIF. Make sure to test all your emails across email clients and just in case, make sure the first frame of the GIF accurately represents what your email is conveying.
Testing animated GIFs
So how can you get started with using GIFs in email? First, determine if your audience is the right fit for a GIF. For example, while a sales or HR persona may respond well to a humorous GIF, a time-strapped executive may be irritated. If you've determined your audience is a good fit, make sure the GIF aligns with the message you're trying to convey and truly adds value to the reader. While creating the email, follow technical best practices like making the first frame count, monitoring file size so it loads quickly, and using alt tags as you would with other images. Lastly, measuring the impact of your efforts is a critical piece of any marketing program; try A/B testing GIFs against emails with static images to validate the hypothesis that it will boost engagement.
Using animated GIFs in sales and marketing emails can be an interesting component of distribution to drive engagement from prospects. To learn more about engaging your prospects schedule a consultation with FullFunnel here
This article was originally published on April 28, 2016 and has been republished to provide the most accurate information possible.