FullFunnel Teams Up With IAG To Increase Qualified Pipeline By 400%
Background
Company Name: Innovation Asset Group
Innovation Asset Group (IAG) is an award winning IP management software company headquartered in the Silicon Forest corridor of Oregon. IAG's flagship product is Decipher®, an advanced intellectual property solution enabling companies to better manage and leverage their intellectual property and innovation activities to increase company revenues. Elements of the solution include:
Invention Disclosure
Portfolio Management
Legal Spend Management
Patent Cost Estimation
"Our Mission: To Help Organizations Everywhere Unleash the Power of Intellectual Property"
Peter Ackerman - CEO
Innovation and intellectual property are now the main engines of growth, but they are not being driven to capacity by most organizations. To be competitively superior and successful in the creation and management of intellectual property, you need enabling technology and data.
Problem
While IAG had built an excellent reputation for the quality of the products and services they deliver to their customers, they spent the majority of their focus and zeal around the development of the product itself and less around sales and marketing.
IAG realized they needed to make improvements in these two areas and proceeded to hire a series of consultants without experiencing much improvement. They found that most consultants told a good story on the way in, but could not ultimately deliver what IAG was looking for.
Although the company was making a huge impact in the industry with its software technology, it found itself in need of a better approach to segmenting the market and creating the right messaging for the right people in order to increase sales
Solution
When Peter Ackerman, CEO of IAG, was asked how FullFunnel helped IAG to overcome its challenges, he responded:
"FullFunnel was easy to engage with and drove for results from the the very beginning. They did a thorough audit, framed the issues fast, deployed the right skills, inserted good infrastructure, and we were off and running. They're great to work with"
FullFunnel sat down with IAG in the beginning of their engagement and conducted a deep dive into their business, rooting through the good, the bad and the ugly. As Matthew Iovanni, co-founder and CEO of FullFunnel likes to put it:
"We approach our client audits during the investigation phase by asking everyone to leave their egos at the door; there simply is no point to ignoring an elephant in the room if one gets discovered. Avoiding something that needs attention out of concern that someone could get offended does the company a serious disservice. We won't do that."
IAG knew there were eyeballs out there searching for their product, and credits FullFunnel with having put the focus in the right places to make sure prospects found their way to the website. When asked what has stood out during their time with FullFunnel, among other things IAG listed the following:
Superior level of communication

Transparency into actions and execution results

Ability to quickly course correct when needed

Direct involvement in the sales process
FullFunnel was able to seamlessly onboard and augment IAG's sales and marketing department, as advertised.
Results
Within the first few months of IAG's engagement with FullFunnel, it saw improvements that included:
400%

increase in sales pipeline growth
12%

increase in website traffic

month-over-month
9.3%

conversion rate of visits to trial users

About IAG
IAG is the developer of Decipher, an industry standard intellectual property solution enabling companies to better manage and leverage their intellectual property and innovation activities to increase company revenues.
Explore the decipher software and other current offerings by clicking here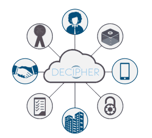 FullFunnel provided us with the sales and marketing strategies, processes, and experts we needed, and were instrumental to the growth at EnableSoft. Their team became an extension of our team and were invested in our success. I'd recommend FullFunnel to any company interested in scaling their business.
Craig Petersen
I have been impressed with FullFunnel's ability to quickly learn and acquire the needed acumen to pitch our technical services. FullFunnel was able to accelerate our outreach beyond our existing resources and thus strike the delicate balance between optimized at-scale outreach with the critical aspect of personalized sales.
Jason Youmazzo
Director of Sales Operations, NTS
When your personal name is attached to revenue goals, you have to have the right outside partners by your side. They have to be strategic thinkers, have the technical expertise, bring the right attitude, and combine it all with a business acumen to understand your business and that of your prospects. FullFunnel brings that and more. We are enormously grateful for their partnership, agility, doggedness, and even candor when needed. I know they won't stop until we reach our goals and everyone is happy.
Kristin Richardson
Chief Sales & Marketing Officer, PartnerMD
"The FullFunnel team has exceeded expectations and has proven to be a great partner, providing the resources, support, and expertise we needed to hit our growth targets."
Lucy Levy
VP of Global Acquisition, Zumba
Get In Touch
Want to Learn More?
Learn more about how FullFunnel can help your firm engineer sales and marketing success and lay the groundwork for growth.